House Awnings Will Add Beauty & Shade to Your Erie, PA, Home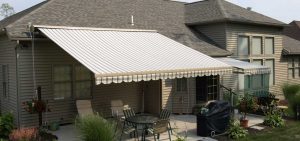 Do you love spending time outside, but you find that the summer heat forces you back indoors right away? If so, it's time to turn to Seaway Window to have house awnings installed on your Erie, Pennsylvania, area home. Just place a call to us and we will come out to your home, listen to your needs, go over our options with you, and help you choose the right house awning that will be perfect for you.
Retractable House Awnings
Our retractable awnings are perfect for homeowners who want to enjoy the sun at times and want protection from it at other times. What's more, instead of offering only one standard, boring retractable house awning style, we have a variety of options for you to choose from so you can get one that meets your needs and aesthetic preferences. You can choose from:
Sizes up to 40 feet in width and up to 16 feet in projection so you can decide how much shade you would like
More than 150 different fade-resistant fabrics to match your home's existing décor
Motorized options so you can have shade when you want it at the touch of a button
Aluminum House Awnings
The aluminum house awnings we offer are ideal for homeowners who would like to protect their windows and doors from the sun. Our aluminum awnings are available in custom widths and a variety of colors and will:
Never rust due to their two-coat, baked-on finish
Help to reduce summer cooling costs
Protect windows, doors, and furnishings from the elements
For more information about the house awnings we have available to homeowners in Erie, PA, and surrounding communities, contact the professionals at Seaway Window today.