Beautiful Bow Windows Available for Homeowners in Erie, PA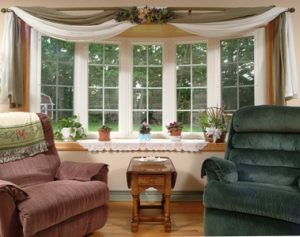 When you replace the windows in your home, you can expect a number of benefits like increased energy efficiency and an updated style. But, if you would also like a window that will become a stunning focal point of your home, offer incredible views, and let in a ton of natural light, consider investing in a bow window from Seaway Window. Since we first opened our doors back in 1959, we have helped countless homeowners throughout the Erie, Pennsylvania, area find the perfect bow windows for their home, and we look forward to helping you, too. What's more, we make all of our bow windows ourselves, right here in Erie, allowing us to ensure that they'll stand up against the weather that is common in our area.
What Are the Benefits of a Bow Window?
When you decide to partner with us to have a bow window installed in your home, you'll get a window that is:
Gorgeous – Consisting of three or more equally sized windows that bow out to form a semi-circle, bow windows create a beautiful and unique look that will enhance the curb appeal of any home.
Energy efficient – Equipped with a number of energy-efficient features such as Low-E glass coatings, spacers, and gas fills, our bow windows will enhance the energy efficiency of your home and meet the ENERGY STAR® criteria.
Customizable – Because we make all of our bow windows ourselves, we can create your window to match your aesthetic needs perfectly. Choose from a number of different color, grid, and decorative glass options to get a window that's just right for you.
Employee Installation Teams
Once you've settled on all of the details and your new bow window is ready, you can count on it being installed perfectly. That's because we have an all-employee installation team that has been expertly trained in the best practices for installing windows. These technicians will work hard to ensure that your new windows look amazing and function just like they were designed to.
For more information about the bow windows we have available to homeowners throughout the Erie, PA, area, contact Seaway Window today.