Awning Windows Designed with Erie, PA, Homeowners in Mind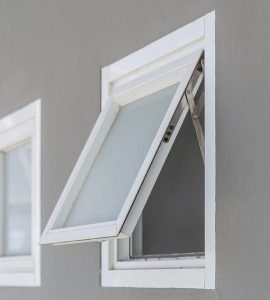 Awning windows are hinged at the top and open outward, creating an awning-like effect, which is where they get their name from. Because of their awning-like function, you can leave them open during light rain showers to let in a nice breeze without having to worry about rain coming into your home. Plus, they can be opened or closed via a geared crank handle, making opening and closing them a cinch. If you live in the Erie, Pennsylvania, area and would like awning windows installed in your home, turn to the professionals at Seaway Window. Not only do we offer beautiful awning windows that will increase your home's curb appeal, but we also manufacture them ourselves, right here in Erie. This allows us to ensure that each window we offer is of the highest quality and made specifically to stand up to the weather that this area faces daily.
Fantastic Benefits of Our Awning Windows
When you decide to work with us to have awning windows installed in your home, you can feel confident in your decision because our windows are:
Constructed with a durable vinyl frame that will allow your windows to stay looking like new for years with minimal maintenance.
Equipped with several energy-efficient features such as gas fills, spacers, and Low-E glass coatings that are all designed to ensure that your Seaway Windows meet the ENERGY STAR criteria.
Available in a number of different color, grid, decorative glass, and hardware options, allowing you to create windows that meet your aesthetic preferences.
Reliable All-Employee Installation Services
By partnering with us, not only will you get high-quality awning windows, but you'll also get expert installation. We only use our own full-time, highly trained employee technicians to install all of our windows. This will allow you to feel confident that your windows will be installed perfectly and operate just like they were designed to.
Contact Us Today
To learn more about the awning windows we have available to homeowners throughout the Erie, PA, area, or any of our other window styles, contact Seaway Window today. We would be happy to schedule a complimentary, in-home consultation where we can come out to your home to listen to your needs, explain more about our windows in detail, and answer any questions you have.