Protect the Windows & Doors on Your Erie, PA, Home by Having Aluminum Awnings Installed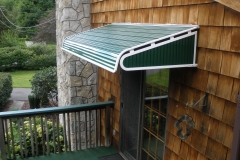 When you're looking to have aluminum awnings or door canopy installed on your Erie, Pennsylvania, area home, there is no better company to turn to than Seaway Window. That's because we've been in business since 1959, and in that time have helped countless homeowners find aluminum awnings that meet all of their needs, and we can help you, too. Just give us a call and we'll schedule a complimentary consultation where we will come to your home to learn about your expectations for the project. We will then work collaboratively with you to help you choose the perfect aluminum awnings that will meet all of your needs.
Benefits of Our Aluminum Awnings
When you partner with us to have aluminum awnings installed on your home, you can feel confident in your choice because our aluminum awnings:
Will help to keep your home cooler in the summer, which in turn can possibly lead to lower monthly energy bills
Will help to protect your windows and furnishings from being damaged by the elements
Door canopies are the perfect choice when you want to protect your door entryways from the elements
Have a two-coat, baked-on finish for lasting performance so they will never rust
Are available in a variety of sizes and colors, so you can find ones that will fit onto your home perfectly and blend in seamlessly
Professional Installation From Full-Time Employees
Once you've decided on the type of aluminum awning you want, you can count on them to be installed perfectly. That's because we never use any subcontractors, but rather use our own, full-time, highly trained, employee installers to complete the job.
For more information about the aluminum awnings and door canopies we have available to homeowners throughout the Erie, PA, area, contact Seaway Window today.