High-Quality Vinyl Siding Options Available for Homeowners in Erie, PA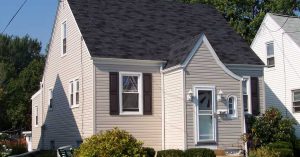 If your home has siding, it's wise to keep it in good condition so it can protect your home. If the siding on your home has seen better days, it's time to turn to Seaway Window to have vinyl siding installed on your Erie, Pennsylvania, area home. Our vinyl siding options will not only help to protect your home from the weather but also will improve its curb appeal and energy efficiency.
What Are the Benefits of Vinyl Siding?
At Seaway Window, the vinyl siding options we offer come with a number of fantastic benefits, including:
Improved energy efficiency – Designed to insulate your home, our vinyl siding options can help to reduce thermal conductivity, which may possibly lead to lower monthly energy bills.
Increased curb appeal – Our vinyl siding is available in a number of different color and style options, allowing you to find one that will match your home perfectly and increase its curb appeal.
Wind resistance – Our vinyl siding is very durable and can even withstand hurricane-force winds of up to 160 miles per hour.
Maintenance-free care – Because our vinyl siding doesn't have to be scraped, sanded, or painted, you won't have to worry about any upkeep once it's installed.
Exceptional Customer Service from Start to Finish
When you decide to work with Seaway Window to have vinyl siding installed on your home, you can feel confident that you'll be working with a company that cares about you and what's best for your home. We will always take the time to listen to your needs, and help you find the right option that will meet them all. What's more, we offer a lifetime product warranty along with an 8-year warranty on installation, so you can have peace of mind that your investment will be protected.
For more information about the vinyl siding options we have available to homeowners throughout the Erie, PA, area, contact the experts at Seaway Window today.