Eye-Catching Garden Windows Available for Homeowners in Erie, PA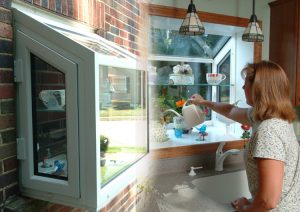 Garden windows protrude outward from the home, providing a space where you can display items and let in an abundance of natural light. In fact, they let in so much light that they are often used as a place to display plants, or as a miniature greenhouse where herbs can be grown—hence, the name garden windows. If you're a homeowner in Erie, Pennsylvania, or the surrounding area and are interested in having a garden window installed in your home, turn to the professionals at Seaway Window. We've been in business since 1959 and make all of our windows ourselves, right here in Erie. This allows us to ensure that every window we make will be built specifically to stand up to the weather that is common in our area.
Benefits of Our Garden Windows
All of the garden windows we make are constructed from a high-quality vinyl material. This material allows us to offer windows that are:
Extremely durable – The vinyl we use to build our windows won't rot, splinter, or warp, so you won't have to worry about your windows falling apart over time.
Energy efficient – Our windows are equipped with features such as Low-E glass, spacers, and gas fills, which meet ENERGY STAR® criteria and will minimize heat transfer in and out of your home.
Easy to clean – The vinyl frames on our garden windows need only to be wiped down on occasion to stay looking like new, unlike other frame materials that require periodic sanding and repainting.
Experienced All-Employee Installation Teams
At Seaway Window, we never use subcontractors to install any of our windows. Instead, we utilize our all-employee installation team to perform all of our installations. These technicians are highly trained, understand the best practices for installing windows, and will ensure that your windows are installed perfectly.
For more information about the garden windows we have available to homeowners in Erie, PA, and the surrounding area, contact Seaway Window today.