High-Quality Storm Doors that Provide Style & Protection for Homes in Erie, PA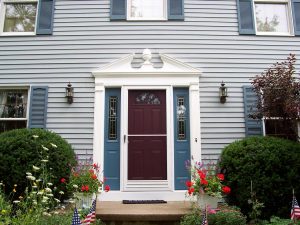 When you turn to Seaway Window to have a storm door installed on your Erie, Pennsylvania, area home, you can count on getting a beautiful storm door that will not only increase your home's curb appeal but also will provide protection for your front door. No matter what your aesthetic preferences or functional requirements are, you can count on us to help you find the perfect storm door to meet your unique needs.
Choose From Our Selection of Storm Door Options
Do you want a storm door that allows you to keep your door open so that you can enjoy the views without letting bugs inside your home? Or perhaps you would rather have one with a screen for ventilation purposes? Whatever the purpose, you can be sure that we'll have a storm door option to meet all of your needs. We offer the following aluminum storm door options:
Cabrio – This beautiful storm door option comes with an easy operating sash, and retractable screen, and is available in a number of different color and hardware options.
Deluxe – Our Deluxe storm doors consist of our eight most popular storm door styles. These doors are available in a number of different configuration options to meet your needs and the hardware will be color-matched to the door.
Uniquely Yours – This is our customized storm door program that lets you create a one-of-a-kind door that will be perfect for you. You can select from one of 12 models, and customize in your choice of six colors and four different hardware options to get a door that is uniquely yours.
Professional Installation
Once you've decided what type of storm door you want, our employee installation technicians will get right to work and make sure that your door is installed correctly so that it looks fantastic and operates perfectly.
To learn more about the storm door options we have available to homeowners throughout the Erie, PA, area, or to learn about our other types of doors, contact Seaway Window today.