Gorgeous Sliding Glass Doors Available for Homeowners in Erie, PA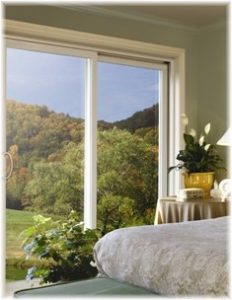 If your current patio doors are unattractive, difficult to open or close, or drafty, it's time to turn to Seaway Window for an upgrade. We are proud to offer homeowners throughout the Erie, Pennsylvania, area high-quality sliding glass doors that will instantly enhance the beauty of their homes. What's more, we manufacture all of our sliding glass doors ourselves, right here in Erie, so you can be sure that they are designed to stand up to the weather that we face on a yearly basis. We proudly offer the following sliding glass door options:
Prima Vista
These sleek and elegant sliding glass doors provide exceptional security, durability, and thermal performance. They are built to perform in the toughest conditions that Lake Erie can dish out and are virtually maintenance-free. They are available in two-, three-, or four-panel configurations and come in a number of different color options, allowing you to customize your new sliding glass doors to meet all your needs.
Encore
These Victorian-style sliding glass doors are not only incredibly beautiful, but they also offer the highest levels of energy efficiency. They come with strong, dependable hardware and a full interlock system that provides exceptional safety, as well as heavy, multi-chambered vinyl extrusions for added strength.
Professional Employee Installation Teams
No matter which style of sliding glass door you choose to have installed on your home, you can be sure that it will be installed correctly. That's because we use our own full-time and highly trained employee technicians to perform every installation. That way you can rest assured that your new sliding glass doors will look great and operate just like they should.
Get Started Today
If you're ready to have new sliding glass doors installed in your Erie, PA, area home, contact the professionals at Seaway Window today.