Slider Windows Offer Erie, PA, Homeowners Many Great Benefits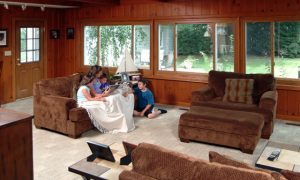 If you need replacement windows for at your Erie, Pennsylvania, area home, consider investing in slider windows. This type of window offers an expansive glass area that provides impressive views and they slide open horizontally on rollers for smooth and reliable operation. If you're interested in having slider windows installed in your home, turn to the professionals at Seaway Window. We've been in business since 1959, and in that time have helped countless homeowners throughout the Erie area find the perfect slider windows for their homes. What's more, we make all of our windows ourselves, right here in Erie, so you can be sure you're getting top-of-the-line slider windows that are built specifically to stand up to the weather that is common in this area.
Slider Windows That Offer Incredible Benefits
The slider windows that we manufacture and install will provide you with a number of benefits, including:
Enhanced home appearance – There's no doubt that these windows are gorgeous. Their large glass panes create an elegant look and they not only provide excellent views of the outdoors but also allow natural light to stream into your home.
Energy efficiency – You can be sure that your windows will be energy efficient because they come with features such as gas fills, Low-E glass coatings, and spacers, all of which are designed to maximize energy efficiency ensuring that your Seaway Windows meet the ENERGY STAR criteria.
Numerous design options – Our slider windows are customized to meet both your functional and aesthetic needs. Our windows will be custom made to fit into your window opening perfectly and are available in a number of different color, grid, and decorative glass options, allowing you to design a window that's perfect for you.
Employee Installations
Because we use our own highly trained, full-time employees to perform our installations, rather than subcontractors, you can feel confident that your new slider windows will not only be installed flawlessly but will also look and operate just like they were intended to.
To learn more about the slider windows we can install in your Erie, PA, area home, or any other of our window styles, contact Seaway Window today.