A Bay Window Will Open Up Any Room in Your Erie, PA, Home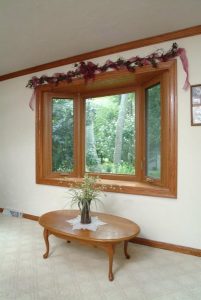 Bay windows are a highly sought-after window style for many homeowners. Consisting of three windows—a picture window flanked by two smaller, usually operable windows—bay windows will become a focal point of any room they are installed in. The three windows that a bay window comprises will capture light from different angles, thus allowing a ton of natural light to pour inside of your home during the day. They will also provide great views of the outdoors. Plus, because they protrude outward, they can add more usable space to your home, usually in the form of a seating area. If you're interested in adding a bay window to your home in the Erie, Pennsylvania, area, turn to the professionals at Seaway Window.
Why Choose Seaway?
Since our founding in 1959, we have been the window company of choice for many homeowners throughout the Erie area. That's because we manufacture all of our windows right here in Erie, allowing us to ensure that they are built specifically to stand up to the weather that is common in our area. What's more, we put an emphasis on providing top-notch customer service. We offer complimentary in-home consultations, which consist of us coming out to your home to listen to your needs, and then we'll work collaboratively with you to help you choose windows that meet them all.
All-Employee Installations
When you choose to work with us to have bay windows installed in your home, you can count on them being installed perfectly. That's because we use our own highly trained, full-time employees to perform all of our installations. They will work tirelessly to ensure that your windows look great and are performing just like they were designed to.
Contact Us Today
To learn more about the bay windows we have available to homeowners in Erie, PA, and the surrounding area, or any of our other window styles, contact the professionals at Seaway Window today.