Double-Hung Windows Made Specifically for Homes in Erie, PA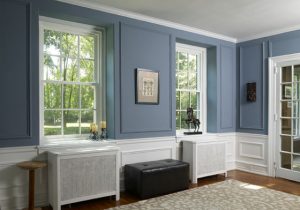 When it comes to having double-hung windows installed, homeowners in the Erie, Pennsylvania, area know who to trust – Seaway Window. When you choose to work with us, you can rest easy knowing you'll be getting high-quality windows that are built to last. That's because instead of outsourcing our work to a third party like some other companies do, we make all of our double-hung windows ourselves, right here in Erie. This allows us to ensure that our products are not only of the highest quality but are also designed specifically to stand up to the weather that's common in the Erie area.
Benefits of Our Double-Hung Windows
When you decide to partner with Seaway Window to have double-hung windows installed in your home, you can expect windows that come with an array of benefits, including:
Versatility – Because both the upper and lower sashes on these windows are operable, you can choose to open one or both at the same time, depending on how much airflow you want.
Ease of maintenance – Both sashes on our double-hung windows tilt inwards, making it easy to clean the outside of your windows from the inside of your home.
Energy efficiency – Our double-hung windows are equipped with a number of features such as Low-E glass, spacers, and gas fills that are all designed to maximize the energy efficiency ensuring that your Seaway Windows meet the ENERGY STAR criteria.
Customization – Available in a variety of different grid, color, and decorative glass options, our double-hung windows can be customized to meet your aesthetic preferences.
Employee Installation Teams
Once you've selected your windows, you can count on our team for a flawless installation as we have our own, full-time employee technicians perform all of our installation work. These technicians are highly trained and understand the best and most efficient ways to install double-hung windows, so you can count on your new windows to look and function just like they were designed to for many years to come.
To learn more about the double-hung windows we have available to homeowners throughout the Erie, PA, area, or any of our other window styles, contact Seaway Window today.