Add on to Your Erie, PA, Home by Having a Sunroom Installed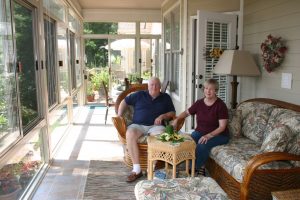 Adding a sunroom to your home is becoming an increasingly popular home addition for homeowners in Erie, Pennsylvania and surrounding areas. These rooms will not only add livable space to your home but will also allow you to enjoy the beauty of the outdoors without having to deal with the bugs and heat. If you're looking for a company you can trust to install a sunroom on your home, look no further than the experts at Seaway Window. That's because we make our sunrooms ourselves, right here in Erie, and even have design engineers on staff to ensure that your new sunroom is crafted just the way you want it. What's more, we offer a transferable, lifetime limited warranty allowing you to have peace of mind in your investment. When you decide to work with us, you'll be able to choose from the following sunroom options:
Better View 3-Season Sunroom
You'll be sure to love our Better View 3-Season sunroom because it:
Is available in a large variety of color options, so you can choose one that will match the rest of your home perfectly
Has full interlocks on the windows and doors to maximize security
Has dent-resistant wall panels
Easy-glide rollers on all windows, doors, and screens for durability and ease of operation
Grandview 4-Season Sunroom
Our Grandview 4-Season sunrooms will allow you to enjoy your new sunroom all year long and come with a number of benefits. For example, they:
Are fully wired for year-round functionality
Are made using InsulGlaze 400 high-performance glass, which provides superior energy efficiency
Offer a maximized glass viewing area
Have an insulated composite roof system to increase the energy efficiency and strength of your sunroom
Have thermally improved extrusions with an external element barrier and foam-filled insulation for maximized energy efficiency
Contact Us Today
To learn more about the 3-season and 4-season sunrooms that we have available to homeowners throughout the Erie, PA, area, contact Seaway Windows today. We look forward to working with you to give you the sunroom you've always dreamed of.