Gorgeous 4-Season Rooms Custom Made for Erie, PA, Homeowners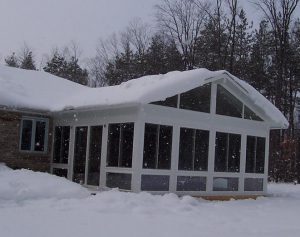 Do you want to expand your home but are looking for something with a little more personality than simply another interior space? A 4-season room may be just the addition you're looking for. These bright and airy extensions allow in plenty of light and provide expansive views comparable to what you would experience on your porch. Only with a 4-season room, you don't have to deal with bugs, temperature extremes, or wind gusts blowing all your "flutter-ables" off the table. At Seaway Window, we are the company to turn to in Erie, Pennsylvania, for exceptional 4-season rooms that will provide decades of enjoyment for you and your family. Unlike most contractors that only install sunrooms, we manufacture all of the additions we offer, so you can rest assured yours will be engineered to the very highest standards and designed to withstand the unique weather conditions we experience, including all that lake-effect snow!
A Home Extension You'll Love From Day One
As the name suggests, our 4-season rooms can be enjoyed year-round. That's because they are fully climate controlled and boast components designed to provide exceptional thermal performance, including wall panels filled with Smart-ER foam insulation and energy-efficient windows. Every addition is also custom made to your specifications. You'll be able to choose:
Vaulted or sloped ceilings
Solid or glass kneewalls
Sliding, double-hung, casement, picture, or awning windows
White or beige frames
Ceiling fans and other electrical components, such as custom lighting and additional outlets
What's more, our 4-season sunrooms can be installed quickly and with minimal disruption to your home. Our in-house team (we never use subcontractors) will handle every aspect of construction, from laying the foundation to installing the fixtures. And we back our work with a manufacturer's lifetime warranty, so you can rest easy knowing your investment is well protected.
So why wait? Reach out to Seaway Window today and schedule a no-obligation consultation to learn more about our 4-season sunrooms. And, if you're interested in ways to make your new addition more affordable, be sure to ask about financing options available to qualified Erie, PA, homeowners.