Beautiful Retractable Awnings Available to Homeowners in Erie, PA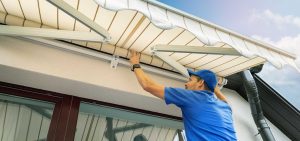 For many homeowners, their deck, patio or yard is a place where they like to entertain family or friends, unwind after a long day, or just enjoy the outdoors. However, during the summer, the sun can be so hot that spending time outside can become almost unbearable. That's where Seaway Window comes in. We can install retractable awnings on your Erie, Pennsylvania, area home that will provide your deck, patio or yard with a shaded area so that you can enjoy spending time in it all year long. Plus, as the name implies, our awnings are retractable, allowing you to choose when you want to bask in the sun or relax in the shade.
Retractable Awnings Customized to Meet Your Needs
When you decide to partner with us to have a retractable awning installed on your home, you'll get to choose an awning that not only meets your functional needs but also your aesthetic preferences. That's because our awnings:
Are available in over 150 different fade-resistant fabrics, so you can count on finding one that will not only blend in perfectly with your home but also will look great for years to come
Can come in sizes up to 40 feet in width and up to 16 feet in projection, allowing you to choose how much shade you want
Are available with motorized options that make extending and retracting your awning easy and convenient
What's more, our retractable awnings can reduce heat gain by more than 77% and the shade they produce can lower the temperature by as much as 15 degrees, so you can enjoy your outdoors no matter how hot it is.
Professional Installations From Our All-Employee Installation Crew
Because we use our own, highly trained employees to install our retractable awnings, you can rest assured that they will be installed perfectly and operate just like they were designed to.
Give Us a Call Today
To learn more about the retractable awnings that we have available to homeowners throughout the Erie, PA, area, contact Seaway Window today.